Upload FAILED – what to do?
Sometimes the upload process fails. When working in cloud-based services, you can take a few things into account and try to redo the process with more success. Here are the known failing reasons you might pump into and how to fix it.
Our support always gets an alert when you get the "failed upload" email. We look into all unsuccessful uploads.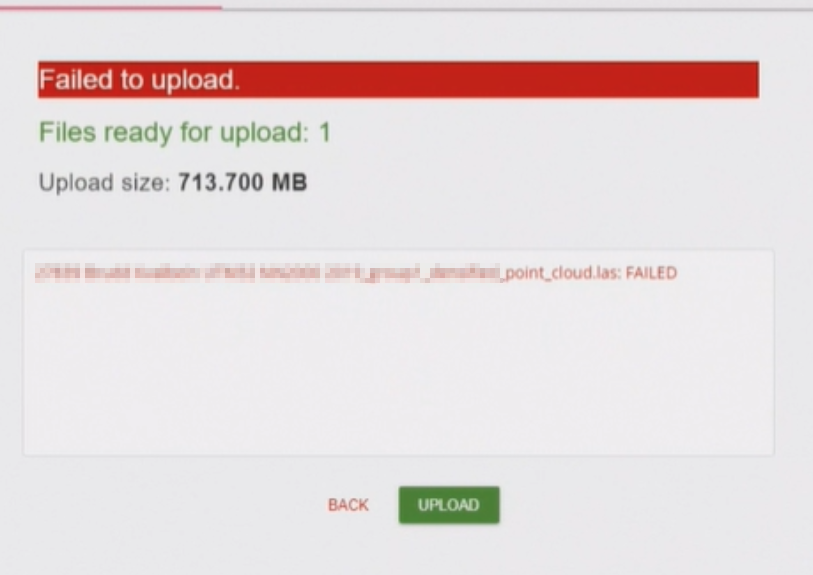 "Failed to upload"

Did you open the site MAP before uploading? Open site map and refresh the page, to make sure you are signed in and have a fresh internet connection
Where is your data? If your data is e.g. in OneDrive sync folder and not locally on your computer, you may experience errors in the upload. Save the data file locally on your computer and upload it again.
Point cloud upload is successful but nothing is on the map

Most commonly the EPSG coordinate system code is incorrect.
The bigger the file (factors: format, point density, and area of point cloud), the longer the processing time is in the backend. About 1GB (3cm resolution, under 1km2) (las) will be processed in 10-25 minutes. If your moderate-size data set is not on the map in 3 hours, contact support@pointscene.com
Infrakit or other coordinate duplicates might get suck in our process. We check them out within 48h. If you need your data faster, please let us know at support@pointscene.com.
Orthophotos, maps, and point clouds have a geographical size limit

We recommend using max 1 km2 sized datasets (e.g. 1km x 1km, 250m x 4km,..)
We do support larger areas, but the risk of failing is higher and the processing will take longer.
If you have a really big area, please let us know beforehand so that we can add some "power" the to system.
If you need help converting or uploading your file, you can send the file to us at "support request" using the "Upload any file" page. You can always reach out to us with an email to support@pointscene.com.
---
I accidentally uploaded the wrong data or a duplicate, how can I delete the dataset?

Ortho photos, point clouds, surfaces, photos, and note attachments can be deleted from the Site.

Ortho photos and point clouds: