Sharing Ortho Photos (WMS, WMTS, TMS, XYZ)
Open data access as WMS, WMTS, TMS, XYZ
You can access data by individual layers or all layers at once (site level access)
Individual layers:
Open site options (right sidebar or options in the site list)
Go to Publish data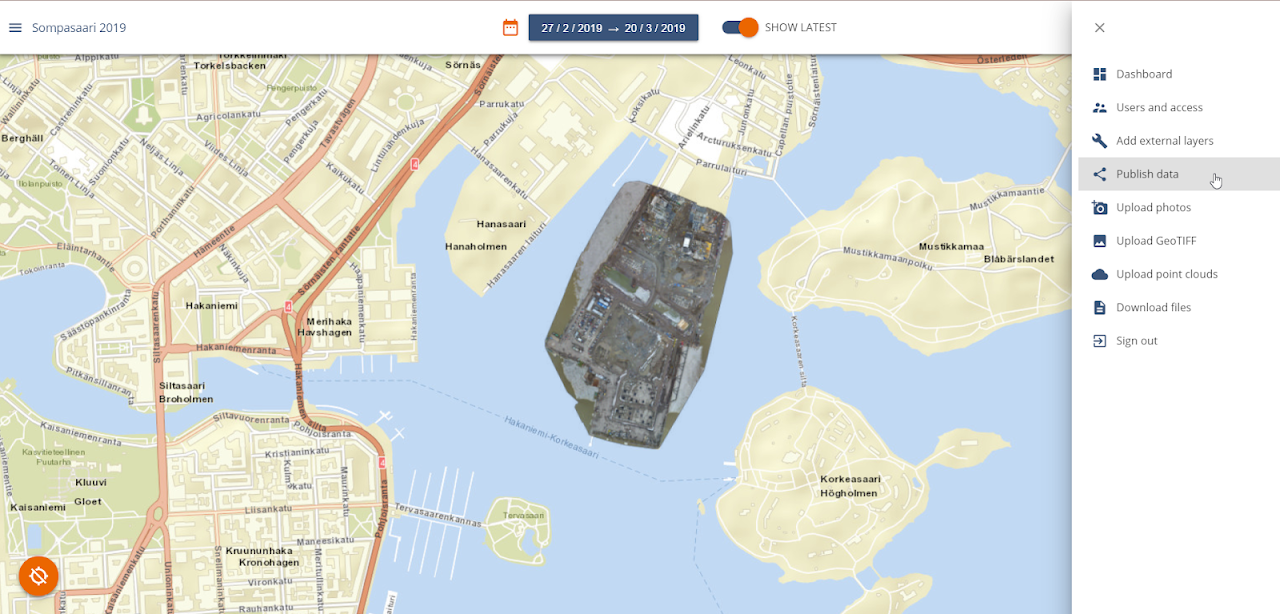 3. Choose which layer to publish and click sharing "on"
4. Copy the link you need (TMS, XYZ, WMTS, WMS) (Copy/Parte from link text)
5. Add this link in other software, such as Infrakit, AutoCAD Civil 3D, Gemini, InfraWorks, Microstaion, QGIS and ArcGIS Online (All integration on our Connect and Control page)

WMS Capabilities – One link, all shared layers included!
Our WMS service works a little bit differently than the other services. Once WMS is turned on for multiple layers, all layers that are shared are visible from the same link. WMS service calls for multiple layers and once the link is added to any software, it asks which layers are requested. Support for multiple coordinate systems is included in our automation package.
So you can copy ANY link from the list of layers and it always has the same content, if the sharing settings stay the same!
The shared link will provide WMS access to ALL the datasets that have the "Share on" option selected. It doesn't matter which layer link you use.
Note! All changes in sharing settings might take up to 15 minutes to be activated. If the link doesn't work, try again in 15 minutes.

Note! The WMS share link length — being more than 248 characters — unfortunately causes issues when using in Trimble Civil / Trimble Locus software (known issues). Trimble/Tekla software are the most common software with this namespace restriction, but this will likely be fixed in the next Trimble software versions. So please update your software to the newest version always when possible. If you find other solutions that have this restriction, please let us know at support@pointscene.com.
Supported EPSG codes for WMS (requires the "automation license" activation):
"EPSG:3857", "EPSG:3067", "EPSG:3873", "EPSG:3874", "EPSG:3875", "EPSG:3876", "EPSG:3877", "EPSG:3878", "EPSG:3879", "EPSG:3880", "EPSG:3881", "EPSG:3882", "EPSG:3883", "EPSG:3885", "EPSG:3885", "EPSG:5972", "EPSG:5973", "EPSG:5974", "EPSG:5975", "EPSG:3006", "EPSG:5846", "EPSG:5847", "EPSG:5848", "EPSG:5849", "EPSG:5850", "EPSG:5851", "EPSG:5852", "EPSG:5853", "EPSG:5854", "EPSG:5855", "EPSG:5856", "EPSG:5857", "EPSG:5110".
For automated ortho compilation (automation license) go here!