Minor updates and bug fixes
We updated how Maps&Drawings layer can managed and fixed some bugs improving raster uploading, photo parsing, and external WMS handling.
Maps&Drawings
Maps & drawings can be created by Editors/Owners by uploading a raster and selecting the data type as "Other map". This will add the data set as a semi-transparent layer on top of all other layers. See Raster Upload for more details.
Maps & Drawings now don't have any date restriction, and users can now edit the name of the layer and delete it.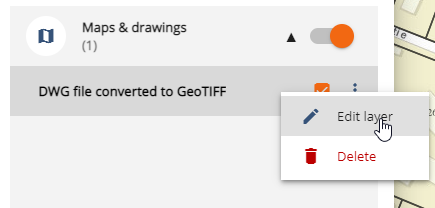 Other fixes
Include photo extents to initial map extend calculations
Fixes to photo parsing
Add warning when uploading raster without world file when header is not read
Check type and name of raster and world file
Remove note's video recording option
Update XML parser used to parse external WMS GetCapabilities response