Construction Foreman Alvar Peltola says Pointscene makes comparing phases during a project a breeze, and reliable data is always at hand to share with stakeholders
During an interview in February, we discussed how Pointscene's solutions have helped Kreate's Construction Foreman Alvar Peltola in his work. Alvar highlighted; the ease of use and reliability of the data as crucial factors in Pointscene services.
According to Peltola, the current project has emphasized environmental responsibility and documenting how contaminated soil is disposed of and this has had its challenges. "Pointscene makes calculating the volumes of soil (how much and where soils have been moved) a lot easier to track," Peltola says that this task would require a lot more work force to complete without the help of up-to-date data on the field.
"Pointscene makes calculating the volumes of soil (how much and where soils have been moved) a lot easier to track" – Alvar Peltola
When asked how Pointscene is helping Peltola personally in his work, he stated that when drone flights are done regularly, everyone has a better overall perception of where we stand and what the situation was two weeks ago. Peltola also said that he has drone data of all different phases in the construction project. Therefore, he can easily share these with project stakeholders and also be confident that his reports delivered to the client are accurate.
Peltola stated that before Pointscene was in use, all calculations were done by a dedicated surveyor, who also made the required edits to blueprints and reports. This had significant drawbacks, as calculations were less accurate and a supervisor had to be present on-site when the measurements were taken. Therefore having the means to measure distances quickly on the field, and creating visual plans has been a great benefit.
According to Peltola, Pointscene is used almost daily and is currently actively used on 9 different construction projects. When asked if he sees that Pointscene should be used more widely in projects, Peltola said that all supervisors would greatly benefit from the use of Pointscene. And also, designers would have a better perspective on the real-time situation of the site, and as designers often do their work off-site, it would reduce errors and the need for them to make trips to a site.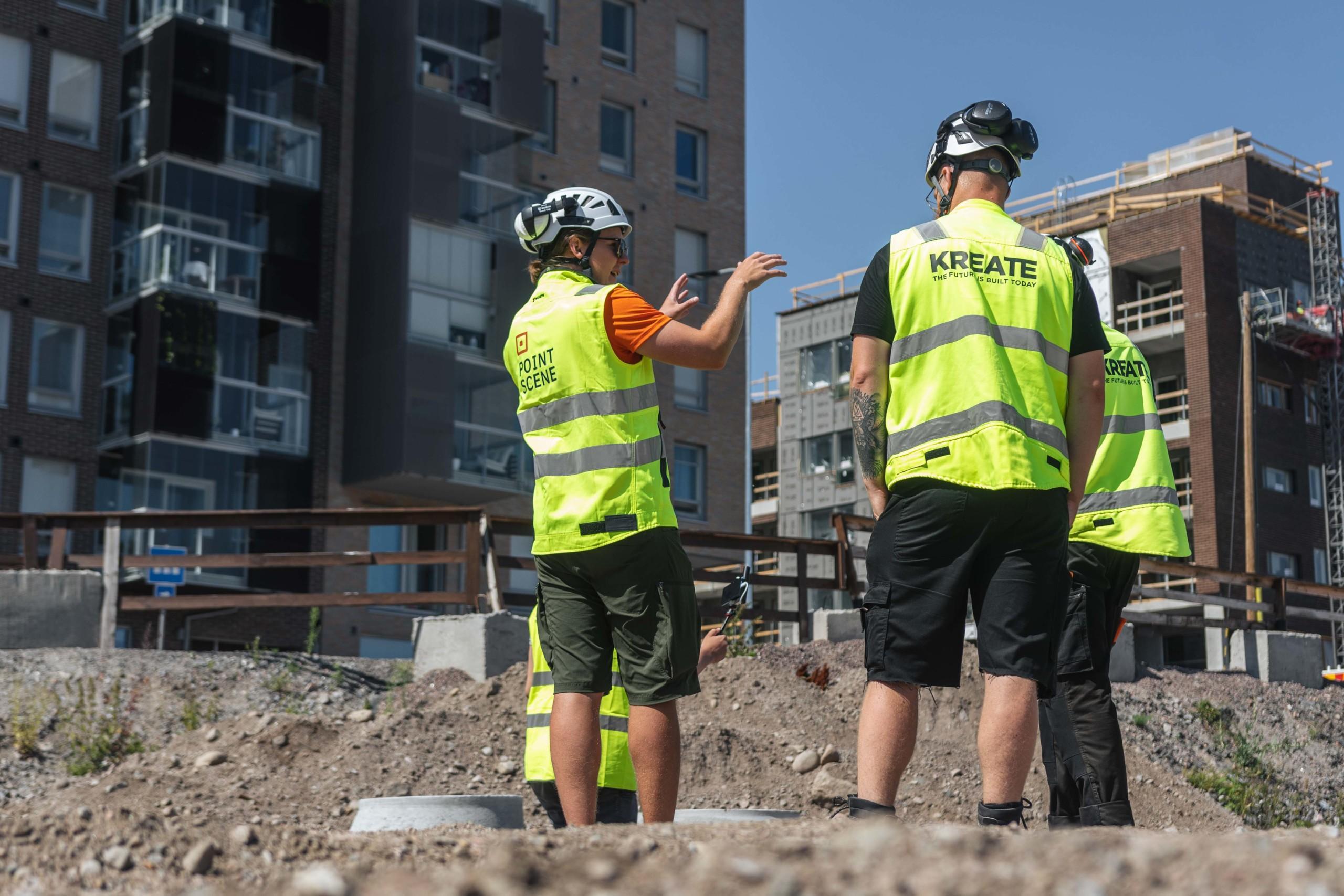 Peltola also recognized that without using Pointscene, the pace at which the construction project has moved along would have been significantly slower as excavation work and reporting duties would have dragged on from the get-go.
When asked if there is anything that Peltola would like to see in future updates, he mentioned that background orthos still loads quite slowly at times. This is however an issue that Pointscene is already working on and will be fixed in future updates soon.
Peltola summarized Pointscene as a great package that has all you need for utilizing aerial scans of the worksite, and the fact that it's easy to integrate with other software makes it hassle-free and quick to take into use on a new project.
"Pointscene improves my situational awareness, daily support in tasks, provides reliable data, and is worth every penny" Peltola summarizes.