8.12.2021 was the first-ever Pointscene Day event!
Review and description of key speeches.
There are also links to return to the presentations or the entire recording.
Pointscene Day: Real-world insights into improving situational awareness on megaprojects
This December, a diverse group of construction professionals gathered for a conference in Helsinki to discuss the issue of situational awareness on large construction projects.
Pointscene Day was a one-day conference that drew nearly 100 participants from 61 different organizations, representing nearly every construction industry or stakeholder. The list included the City of Helsinki, City of Oslo, as well as companies across industries like construction, design, drone capture services, engineering, software, surveying, and more.
The focus of the day were the keynotes, where a number of digital construction leaders presented their insights about situational awareness—including advice about what technologies can help raise situational awareness, how to implement those technologies as part of a larger transformation, and even how much money these strategies can save.
Here are a few of the many insights our keynotes shared.

Keynote Insights

When implementing new technologies, trust comes first
The first keynote came from Aki Kopra of Kreate Oy and TYL Crown Bridges consortium, who presented on his work as design manager for Crown Bridges
Alliance—the group tasked with the EUR 326 million Crown Bridge Construction project in Finland.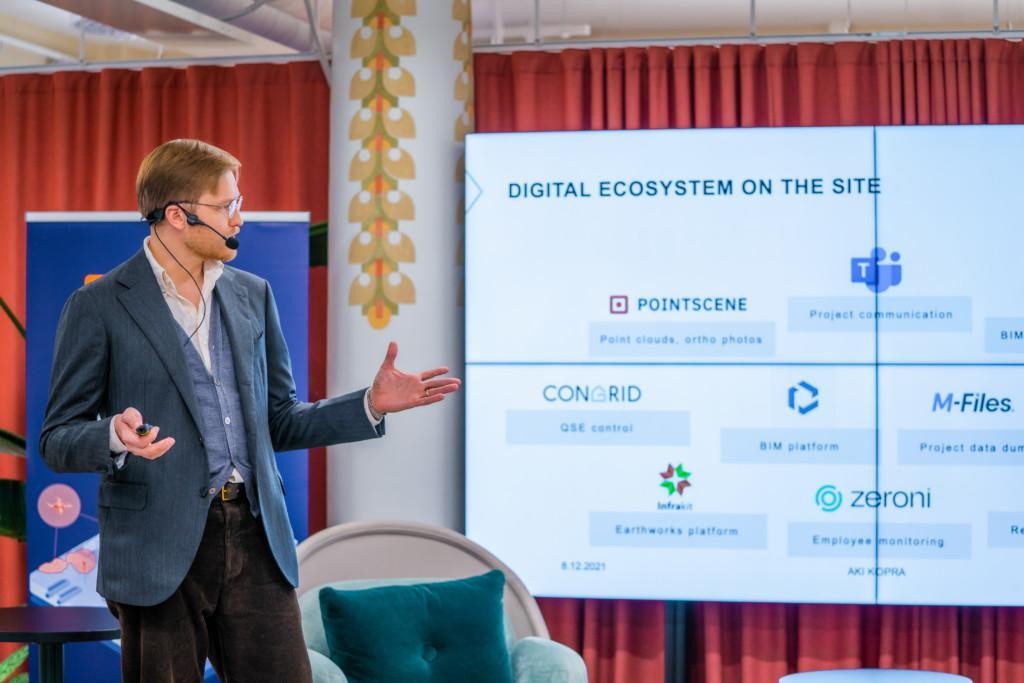 Kopra spoke about the project's tools for increasing situational awareness on site. He also shared his approach to "keeping the upper hand" on these technologies as their number grows and the data ecosystem becomes more difficult to manage.
The key? Focus on culture and process first.
"When introducing something new," he says, "we have to establish trust in the new thing. Trust creates culture. 'OK, we want to do things better, we want to do things in a new way to improve ourselves.' When we have decided that we are improving, and we have this buzz, we create new processes." Only then, he says, can you implement the technology.
Click here to see the rest of Kopra's presentation, including his in-depth exploration of how Kreate Oy implemented Pointscene for better situational awareness.
Technology is key for situational awareness on big projects
The next keynote speaker was Jari Pelkonen from YIT Group Oy, who presented on his work as BIM manager with the Crown Bridges Light Rail Alliance. This group is building the light rail for the bridge megaproject Kopra mentioned in his earlier presentation.
Pelkonen spoke about the challenges of the alliance model for megaprojects, and explored why technologies for better situational awareness are so important to success.
To achieve a goal under the alliance model, he says, you need to make sure every communicates, and has access to the same information. That means you will need technological solutions designed to centralize the data, and share it with everyone.
In the case of this light rail project, that involves using Pointscene. With this tool, Pelkonen says, they are able to make sure all stakeholders have the same spatial and mapping data right in the tools they use.
"You can see the same timeline in CAD versions, drone data versions, and 3D model versions," he says. Meanwhile, the project is able to ensure that data is accurate by storing it in a central location. "In the back end," he notes, "it's all the same data."
Click here to see the rest of Pelkonen's presentation, including his in-depth description of how the alliance ensured success on the bridge megaproject.
Implementing new tech requires pilots and pioneers
Jyrki Paavilainen, a leading expert in asset management at WSP Finland spoke about how the City of Helsinki is approaching street construction in dense urban areas. This is a difficult task, given the complexity of the environment, the constant surprises, and a variety of other challenges.
Paavilainen talked about the value of technologies for situational awareness on such projects. Then he noted that, as crucial as these tools can be, there will be people that fight back.
They'll ask, "Why do we need these kinds of things? Remote monitoring, planning, utilizing more BIM and non-destructive technologies to see below street level?"
How do you overcome this challenge? The answer, Paavilainen says, is "pilot projects and pioneers."
That means you should pilot the tools and demonstrate their value. You should also look to pioneers who have already performed pilots for these tools. For instance, he says, you can pay attention to companies like Kreate Oy and YIT Group Oy, who present clear and convincing case studies for the new technologies they have implemented.
"These projects should be much more spread," he said, "and much more utilized to show the benefits of piloting technologies."
Click here to see the rest of Paavilainen's presentation, including his in-depth description of how the alliance ensured success on the bridge megaproject.
Better data visibility helped one project save over EUR 1 million
Marion Schenkwein, an InfraBIM specialist from Finnish Transport Infrastructure Agency presented just such a case study. She demonstrated the benefits of implementing situational awareness technologies—as part of a seven-step effort to improve productivity—on the EUR 139 million Kirri-Tikkakoski VT4 project.
She walked through a case study demonstrating how the project implemented these seven crucial steps to provide better visibility for all trades and disciplines. She explained how the project "rewired the conceptual framework," "improved on-site execution," and adopted new digital technologies like Pointscene for better data sharing.
The result was staggering. "This project," Schenkwein says, "has been able to save over 26 weeks in the design process. This equals nearly one million Euro of savings, and the construction works are now almost one year ahead of schedule. I think that's pretty impressive for a project of this magnitude."
Click here to see Schenkwein's full presentation, where she details the seven-step process for improving visibility and productivity on large projects.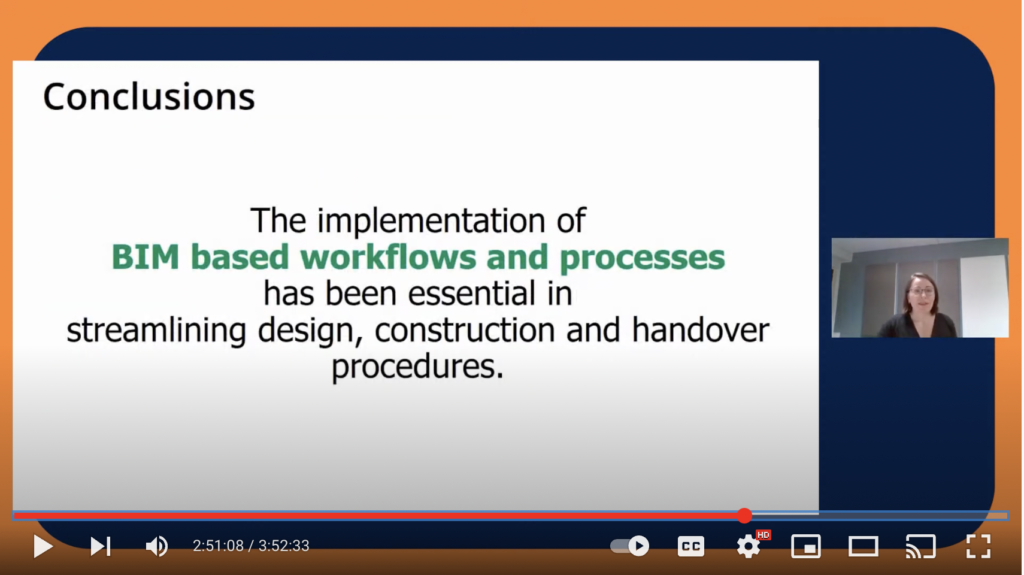 Don't worry about the latest tech, just deploy, deploy, deploy
The day's last keynote came from Jero Juujärvi from YIT Group Oy, who is also the founder of the Infrapioneer Group. He spoke about how there are new digital construction technologies coming every day, making it a challenge to deploy these tools to every person on the construction site.
"That's something we will probably never solve completely," he says. "But it's something we need to figure out. I think it's really important, especially for construction workers, that we are not so focused on being on the top technology."
Instead of worrying about "having the coolest gadgets, he says, projects need to focus on actually deploying the new technologies they have already purchased. That way, they can actually get the tools out to workers on site and empower their adaptability to new technologies.
That way, when you want to deploy even more "new technologies, new processes," your project can "adapt that new style as fast as possible" and really put it to work and improve your project's results.
Click here to see Juujärvi's full presentation, where he explains the benefits of faster technological adoption.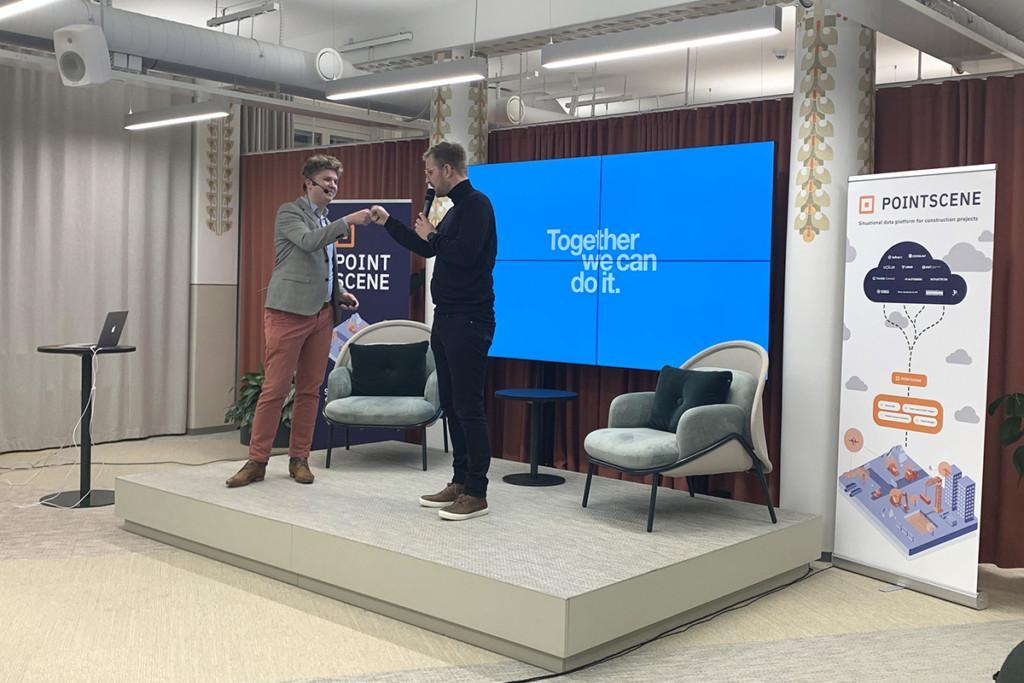 Wrapping Up
The overall theme of the day was situational awareness, and the keynote presenters demonstrated that this topic extends far beyond a simple discussion of drone capture. They showed what can be achieved with better tools and processes, and offered a variety of meaningful, real-world insights for bringing better situational awareness to even the biggest projects.

To watch the whole day's worth of presentations, learn from the five digital construction leaders who shared their opinions and expertise, click here.